Flexible Circuit Technologies takes pride in creating solutions for many of our clients challenges.  Here are just a few examples:
Industry: US medical company
Application: Wearable Electrostimulation device to aid in healing.
Opportunity: The customer approached FCT with a design they were having trouble with. They had a patch that was adhered to the arm with hydrogel. Often the patch was failing after a single use.  The customer came to FCT to gain assistance in developing a more robust design that would lead to many uses to offset the cost of the patch.
Solution: FCT Engineers conducted a web-based call with customer engineers where we reviewed the current design, attained a clear understanding for the issues they were experiencing, while also developing a clear understanding for their desires, related to product performance and need to be utilized multiple times verses single use.
It was quickly apparent that the circuit design did not follow best practices. Specifically, they were no fillets where conductors intersected pads and they did not utilize the grain direction of the copper properly. In addition to this they had kept conductors to a minimum width based solely on electrical requirements and the materials selected were as thin as possible. 
Offering deep expertise in wearable related applications while also having significant expertise in materials, material performance; FCT went to work for this customer.  We redesigned the circuit layout to incorporate best practices. We also had them add a removal tab so the technicians removing these from the patient would have a consistent method that would prevent damage that allow for added longevity of the product. Further, we provided our recommendations for a material stack-up that would also help to make the product more robust.  By addressing all of these key factors we were able to provide the customer with a design that exceeded their targeted multi-use requirements.
Result: The resulting design yielded use numbers that exceeded what was desired.
Industry: Industrial customer
Application: Flexible heater used in Benchtop equipment.
Problem: When the customer approached FCT they were having trouble getting product from their existing supplier while also having difficulties with the overall relationship.  The supplier held all detailed files related to 11 differing PNs that they were producing for the customer.  Unfortunately, the customer did not have any of the up-to-date files inclusive of design files, material stack up and more, but they did have finished parts.
The customer was pleased with the performance of the parts that they had been using, and therefore sought to identify a supplier design and build parts that would meet the same specifications.  Given there we no final files to work from FCT would need to reengineer each part number. 
Solution: We do offer extensive flexible heater knowledge and utilized the customers obsolete files to compare those to exact part.  We also cross-sectioned the parts and then worked to define the exact set of materials that were being utilized in the current production parts that the customer had received in the past.  FCT then developed and supplied the customer with a complete data package for technical review by the customer.  The customer would approve the files and FCT then build prototypes of each part number.  Upon testing the customer found that the FCT parts performed at the same level or offered a slight improvement.  FCT then turned over the data packages to the customer so that they have long term control over their products. 
Result: Once designs were agreed upon, FCT built product that turned out to be a drop-in replacement and met or exceeding the requirements of these critical customer related applications.
Customer:  Product Development Acceleration Group
Medical device: Mouth related device
Opportunity: The customer contacted FCT in the early stage of design.  The PCB assembly would be vertical and the flex would come off the center of the PCB assembly at a 90° and an appropriate attachment method for the flex was required.  The full assembly would be overmolded and must survive an extremely strenuous application given its desired use for a mouth related medical application where there is significant stress put upon product given intended use. 
Solution: FCT helped to provide guidance related to the design and attachment method for the flex and overall assembly, so that it would stand up to the stressful environment given an extremely challenging application. 
The device has a battery, SMT components and a vibrating motor of which FCT does the full assembly of the PCBA and flex for the customer.  FCT then ships the final PCBA to the customers Contract Manufacturer for Overmolding and final product assembly.
Result: The customer ordered 50 pcs of our first joint design to do initial testing.  The results were better than expected for first round of prototypes, as the PCBA performed well; given the challenging application and use.  The testing did provide added insights that allowed for additional discussion, as FCT then worked with the customer to make slight modifications to the design that led to improved results during the 2nd round of prototyping.   Given the promising performance to date, we moving to a preproduction run, as we work diligently in support of the customer in support of moving this to production and to the marketplace. 
Industry:  USA based Tool Manufacturer
Application:  Battery related application for battery driven tool
Opportunity: Customer's engineering team was developing a battery management solution for one of is electronic power tools.  These tools are utilized in challenging environments which require many considerations in design to ensure that the battery management solution will perform and stand up. 
The customer was seeking a flexible circuit solution for the internal interconnects given its low mass characteristics and its tolerance for high shock and vibration applications.  Unfortunately, to accomplish this the flexible circuit would end up being shaped like a large "H".  This would result in very poor processing panel density and therefore much higher circuit cost. 
FCT's design engineers each offer above 30 years of expertise in the design of these specialty interconnects.  Given that expertise we are often able to come up with designs and ideas to help customers significantly lower costs.
Solution: Upon review of the customers original approach and solution, FCT decided to separate the circuit into 4 main portions.  Two of these portions could be made as rigid PCBs (very low cost), and the other two portions would be rectangular flexible circuits that would panelize very well.  FCT then utilized proven connection methods, performed by our highly experienced assembly team to marry the individual sections.  This would allow for panelization that would maximize material usage, provide robust connection of the individual sections, and lead to a "drop in" final product that would stand up well even in extreme use cases. 
Result: FCT provided the customer with a solution that took over 40% of the costs out when compared to the initial design.  Further, the solution also would offer proven long-term performance given the connection methods that FCT would deploy.  The customer's engineering team was extremely pleased with FCT design support given we have helped them to attain significant savings on multiple designs and is pushing to assure that FCT is in position to support them as a long-term value-added partner. 
Industry:  Major Recreational Vehicle OEM
Application: Design of a flexible heater for handles of recreational vehicle
Opportunity: Prospective customer came to FCT with an initial design that they had worked on for over 9 months that had to do with a heater assembly to be used on handles of a recreational vehicle to keep hands warm during colder weather.  Their desire was to have a flexible heated handwarmer that could operate at 3 different settings, dependent upon how warm the user would like given the temperature.
The initial design by the prospects engineering team led to a flexible heater with components that would attach to a PCB that had additional components all aimed at managing the device.  In total the customer had over 30 components identified with some being expensive components that included long lead times.  Upon FCT's initial review, we knew we could simplify the design to where we could eliminate most of the components while offering the same or similar performance.
Solution: FCT design engineering team developed a solution that provided 3 differing heater zones that could be controlled by a single switch, allowing for the same 3 settings of warm (1 zone engaged), warmer (2 Zones engaged), and warmest (all 3 zones engaged), while getting rid of most of the components that had been identified based upon the initial design. 
Result: FCT developed a far more simplistic design that would offer the same performance while also providing added reliability over the life of the product.  Further, FCT was able to pull out most of the components offering substantial overall savings (an approximate 40% decrease in overall costs) and further offered a product solution that would not be held up by long lead time components; providing the end customer with a huge win related to this design!
Industrial Start up opportunity
300 feet plus flex… What?
Opportunity: Flexible Circuit Technologies was contacted by an Industrial customer who had a startup opportunity based upon a new concept centered on measuring temperatures across an extended length for a given application and its intended use.
Solution: FCT's USA based Engineering and Program Management team met with the customer to attain overall high-level requirements and further to gain a more detailed understanding for the application, the challenges, and the overall opportunity.
Some of the key challenges had to do with length required for the solution, as it needed to be over 300 feet long while also being produced at a cost-effective price.   FCT was able to utilize our large format equipment and then developed a splicing method that allowed us to deliver a product that is over 300 feet long and doing so at a cost-effective price and further that met end use requirements related to additional challenges having to do with temperature exposure and load. 
Beyond the length of the flexible circuit, the product also required assembly of components and additionally FCT had to meet challenging test requirements.  FCT performed the assembly of components at our EMS center in Shenzhen China and further worked with the customer to attain detailed test requirements. Our highly experienced Test engineering team was able to implement testing procedures that allowed us to test and validate the product.  The customer then came to FCT with a request to developing a packaging method that would allow for safe shipping and further for more convenient use in the field where the product is utilized.  FCT proposed and then developed a customer reel system that would meet overall requirements for shipping and improved use in the field.
Result: To date the customer has been extremely pleased with FCT's performance, inclusive of overall design, method of production, and packaging and further in the extremely responsive support that we provided inclusive of meeting challenging timelines.  The initial prototypes performed very well out in the field and proved out the customer concept.  We now are in the process of moving this program to long term production for the customer.
Customer:  OEM in Automotive
Application: EV Flexible Circuit Battery Monitoring solution
Opportunity: European Automotive Manufacturer came to Flexible Circuit Technologies seeking design support, development and delivery of an EV flexible battery management assembly solution.  The design would include a full assembly including flexible PCB, 2 plastic carrier parts, 88 metal stamping/buss bars, a variety of components and full SMT services required to deliver the product as an assembly.  The customer came to FCT in a rush, due to past suppliers' unacceptable performance, given their inability to deliver quality assemblies and further being able to deliver in a timely manner.
FCT was put in a position where we needed to finalize our design and attain customer approval, while also qualifying suppliers for the plastic molding, metal stampings and assembly with 8 different flexible circuits.  Further, given the customers challenging timeline, we had to accomplish all of this with a ship date of our initial prototypes within 8 weeks of attaining the initial customer order for prototypes. 
Solution: FCT is one of the premier global suppliers for EV Battery related solutions and has been designing, developing, prototyping and has various models in production dating back to 2014.  Given this experience, FCT USA was able to fast track the design to attain customer approval.  Further, FCT Shenzhen was able to leverage current identified suppliers for the plastic molds and metal stampings/buss bars and was able to put a rush on delivery.  Also, FCT's own flex/rigid flex/flexible heater bare board facility was able to prioritize this critical opportunity in order to produce the flex in time to meet delivery dates.  FCT Shenzhen did an outstanding job of performing the full assembly while also completing initial testing and we were able to meet the ship date at the 8-week mark.
This was an outstanding effort by our senior engineering team and program management team out of our USA headquarters who was responsible for working directly with the end customer and managing all activities for this program, while also coordinating our activities with our facilities in Asia. Further, our FCT China operations did an outstanding job of prioritizing this important program which allowed us to meet the customer's critical timeline.
Result: FCT has one program with this customer that is in production.  We have an additional program that is slated to go into production this year and are a proven source for future EV Battery management system related programs. 
International Supplier - Asia - Automotive
Application: IPC Class III Flex component for vehicle steering system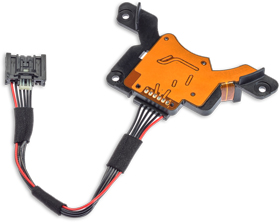 FCT was asked to develop an IPC Class III part for an international supplier of components and assemblies to the automotive industry.  Due to the complexity involved along with stringent customer requirements and anticipated higher volumes, FCT was required to make investments into one of our facilities to shore up our ability to meet the overall requirements.  This included adding SMT lines and upgrading some of the equipment in order to achieve all criteria to the customers satisfaction.
FCT went to work in support of our Asia based manufacturing facilities and helped obtain the equipment that would be needed to be successful with this program.  Additionally, we supported the work flow processes and helped set up two new and dedicated SMT lines for this program.  We also supported the facility in implementing added quality programs, above what had been standard, to assure that we would meet all customer requirements.
FCT has successfully supplied this customer with these components for the past 4 years.  The program continues to expand and today our flexible circuit assembly, combined with our customer's overall product solution, are incorporated into several major automobile brands across the globe.  We are extremely proud of our ability to work with this customer.  Not only did we meet their needs, we also stepped up in a short period of time to assure that all required equipment and processes were in place to successfully meet the demand and overall requirements.
North American Consumer - Industrial Manufacturer
Application: Inventory & stocking programs
With this project, FCT faced unpredictable customer demand for products against challenging lead times on both ends.  Our direct customer's needed to offer their customers short lead-time in an unpredictable sales cycle. FCT in turn, needed to offer short lead-time in spite of this unpredictability and long lead-time for material used on the flex circuit.
FCT and our customer resolved the procurement challenge by working closely with the end customer's procurement department in mapping out a Just In Time (JIT) delivery plan while utilizing FCT's inventory/stocking program services.  The customer provides FCT with detailed weekly forecast updates along with consumption rates and their on-site inventory status.  This allows FCT to properly purchase the long lead materials and plan production batches while supporting overall inventory management.  This allows our customer to turn the inventory of flex circuits in excess of 40 times per year without any line down stock outs. 
The ability to provide support to our customer relating to; JIT delivery, support in stocking and inventory management plus more, has led to a close working relationship between our organizations.  This value added service helps our customer to meet their production schedules and end customer needs without the worry of getting caught in a line down situation.  By providing the customer with value added services we have been able to develop a long term relationship that continues to grow for both of our organizations.
Non Tactile Switch Activation
Wire Assembly with Epoxy Coating
Combine an existing PCB with an existing molded assembly, utilizing a metal dome for a tactile switch. The switch had to be activated by the edge of the PCB instead of a fingertip and the unit had to withstand 100% humidity and extreme heat for 10 days. Not only did the unit have to successfully withstand extreme heat and humidity, but also hold up during a four foot drop test.
First, we had to devise a way to fully enclose the switch so that the humidity could not penetrate. At the same time, an escape route for the compressed air during switch activation was needed. We managed to accomplish consistent, reliable results with a combination of polyimide tape precisely cut and aligned with protective oil. Next, we used a combination of epoxy and protective oil to protect the exposed surfaces. Finally, the snap dome was to be activated by the edge of a PCB, which is an atypical usage. We modified the metal dome switch so that it did not have its contact point fully encased in the diameter of the switch. By making this modification, we were able to accomplish multiple activations without false or missed contacts.
Because of the thoughtful selection of materials and "out of box" thinking in design, Flexible Circuit was able to create a device that met the heat, humidity and drop tests required by our customer.
Sensor Technology
Application: Two Sided Die Cut Window Hard Gold Plating
We knew the unsupported traces would be damaged if we utilized typical design, manufacturing and packaging processes. After careful consideration, we designed a removable protective shield to stabilize the circuit during the manufacturing process. In addition, we packaged each of the circuits individually. While both of these solutions added cost, they were necessary for the success of our customer's program.
By partnering with our customer's design and quality teams from the early stages of development, the dividends realized were great. Production yields improved from 15% during the test stages to more than 90% after full implementation. Together we figured out how to mass manufacture a circuit that seemed impossible in its early stages.
European Industrial - Manufacturer of Thermal Sensors
Application: Flat Flex Thermal Sensor
The customer was seeking a thermal sensor flex using a resistive foil and selective copper plate.  The customer's flatness specification could not be met with the original design making the design and product application very difficult.
FCT analyzed the design and based upon extremely "close quarters" (thickness tolerance) in the customer's product options to revise the stack-up to improve flatness were extremely limited.  FCT developed a test matrix that involved 3 alternative designs and constructions for the solution.  Through this matrix we were able to land on the most prudent design that achieved the required flatness specification while accomplishing the overall requirements for the application.
The successful solution development led to overall program success including consistent production volumes for the first few years of the program and now has led to increased volumes required by the customer over the past two years.
North American Electronics Manufacturing Company - Medical Device
Application: Medical Light Wand
FCT was provided with a small, relatively simple, prototype design for a lighting instrument.  In utilizing the customer's design the initial prototypes were not fully satisfactory and we were challenged to meet the desired application requirements.  Additionally, beyond the design challenge there were manufacturing and assembly challenges that had to be addressed in order to successfully provide a product that would meet the customer requirements.
FCT was asked to provide design input in order to optimize the solution and performance.  Our suggested changes were made, and prototypes were built.  Additionally, FCT's manufacturing and assembly team worked through the fabrication and assembly challenges.  A particularly difficult challenge had to do with fabrication.  We needed to hand-place a very small rectangle (less than 1/10th of an inch square) of thick heat transfer tape onto a very exact footprint assuring adhesion to the flex.  These issues were successfully worked through to success in the prototype stage.
FCT and the customer moved onto production and the customer recently  commented that "the last shipment of flex assemblies have been working well and quality seems good.  We are currently finishing up our final build with the remaining circuits.  The future is looking very promising with increased volumes already requested for next year.  We will be looking at 15-20K LED's next year which is great considering it's our second year in production.   Thank you [FCT] very much for your continued help in the development of the project."
International Eastern Europe
Industrial/Commercial Electronics and Network Infrastructure
An International Customer located in Eastern Europe came to FCT for support in the design and fabrication of an extremely difficult flexible circuit component.  Challenges included supporting the design and development of a part that is ~0.61"wide x ~74" long, that consists of 7 separate 2-Layer circuits soldered together with gold plated traces all exposed on one side; with 28 SMT components needing to be mounted to the other side, and a 60 mil polycarbonate stiffener applied with the adhesive on both sides the full length to the components side, and then all components encapsulated with epoxy.  The part was extremely challenging when considering manufacturability.
FCT took this project on knowing that it would be quite challenging.  We worked with our manufacturing facilities to work through the considerable challenges that we would face during fabrication.
FCT successfully worked through the various issues that required considerable manufacturing achievements that led to the successful development of this product while meeting strict customer requirements.  This led to a successful program and a very happy customer given failed attempts with past suppliers.
North American Consumer - Industrial Manufacturer
Application: Manufacturer of hot beverage dispensing equipment
Our customer had designed a Flex Circuit solution that would meet their demanding environmental requirement and need.
The successful flex solution called for a high temp film that was not widely used in Industry.  The identified high temp film was a "must use"; due to its excellent dielectric, low moisture absorption, high temperature resistance and food grade properties. This material required a very high temperature lamination process and would require significant process development effort.  The customer was having great difficulty in finding a FLEX supplier that could successfully laminate the material on their design. This required a high temp press / time monitored process to properly seal the circuit without published knowledge of how to best accomplish this.
FCT resolved the Flex Solution challenge by initially researching the properties of the particular high temp film that was to be utilized.  FCT then located a high temp press and subsequently developed and tweaked the process to successfully laminate the material with polyimide flex base.  FCT was the first supplier to successfully laminate this material in production quantities while meeting the end customers quality and cost objectives.
FCT was able to develop a successful solution to this challenging application where others could not. By meeting our customer's demanding needs; we were able to gain the customers trust that has led to a very successful long term relationship.  Today, our relationship continues to grow as FCT has met additional customer demands for new flexible circuits using this material. We are currently working with our customer on a new project that will continue to grow our market share with this customer going forward.
North American Consumer - Electronics Product Manufacturer
Application: Jumper with pin-through connectors at each end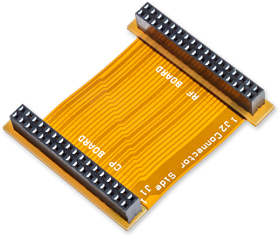 Customer needed a supplier of a simple jumper with connectors attached. They were not even sure if their previously-built parts contained or required plated through holes or not? At times customers come to FCT with more questions than answers or with varied skills or they may not have the internal engineering expertise that they would like. In these cases, it is our job to help and to do what we are able to get to the solution that will best meet the customer's needs.
FCT worked through the application with the customer by gaining a detailed understanding for the application requirements and design; we then developed and got confirmation on the design and then built First Articles in front of an order for 1,000 assemblies.
The First Article parts were accepted and FCT has completed production of the first 1000 assemblies.  The customer communicated to FCT the following:  The parts appear to work well and cosmetically they are great…. I really like working with you guys… we've approved the cables, they look terrific and the quality is excellent.
International - South America – Commercial/Industrial products
Application: Scanning Equipment Banking, Retail, Other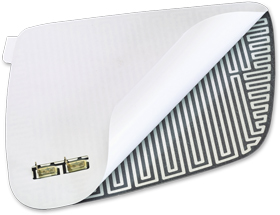 An international customer located in South America came to FCT with an application and flex product need that involved an extremely challenging design. The customer sought to develop a screen printed silver circuit for the security of their POS Handheld CC Reading Device.  Copper could not be used as it was too easy for intruders to bypass.  Additional requirements called for traces that could not be seen from the front or the back and half of the parts must fail like a tamper resistant label while the other half of the parts must be strong, must perform and could not fail.
FCT was able to work with the customer to develop a design and product that met all of the extremely challenging requirements inclusive of passing stringent post production testing requirements; leading to a successful program that met all customer criteria against what seemed to be nearly impossible requirements.
FCT was successful in solution development for this extremely challenging part and to this day we believe this to be one of the most challenging and unique flex circuit components that we have developed. FCT believes that many in the industry would have been challenged to figure out a workable solution and/or would have simply passed on the opportunity due to its complexity.
Wearables - Leading Sportswear Company
Application: Wearable wrist band activity tracker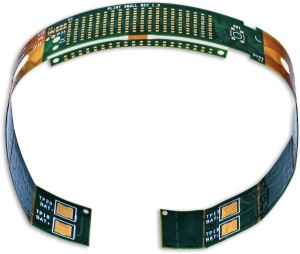 The customer was dealing with a complex application and while working with others could not attain a successful Flex Circuit design that would perform against the requirements for the application at hand. 
The Customer had been going through the design and development process with other suppliers related to designing a flex circuit for a wrist worn athletic/activity tracker.  The product was to contain a complex and dynamic flex circuit.  Prototypes from multiple flex suppliers had all failed to survive over molding and bending tests.  The customer was becoming discouraged as attaining a successful design was proving to a difficult challenge while development costs continued to rise and the timeline continued to slip.
FCT was called in to review the design.  Several design changes were recommended and made related to the design, construction, and conductor routing.  FCT supplied proto-type flex circuits using the new enhanced design and the new circuits performed perfectly while meeting the demands of the application and meeting customer expectations.
FCT was able to develop a successful solution to this challenging application where others could not.  Based upon the outstanding performance of our design the customer was able to achieve one of the most successful product launches to date within the Wearables market. FCT's superior design expertise coupled with providing a flex solution at a competitive price led to a successful program and satisfied customer.   We also supported the customer with inventory/stocking program in meeting their production schedules.  FCT produced over 2 million of these circuits in production and was the sole source for this large and successful program.
Wearables OEM
Application: Wearable delivering circuits to customer specifications
FCT worked with the customer and their EMS supplier to suggest an improved panel array that allowed for over a 30% material savings by fitting more parts per panel.  We further requested that the customer allow FCT to quote the assembly as FCT offers superior expertise in assembly on flex that allows us to provide outstanding savings to our customers.  Once assembly pricing was provided, the customer saw the savings and then wanted to see what additional value-added services we could provide.  Today, beyond SMT assembly FCT further supports customers with product module builds to complete product box builds.  In the end, the customer found that FCT could TAKE ON MORE… as we now do the circuit fabrication, assembly, and further perform additional value-added functions including battery attachment, gluing, firmware installation, assembly testing including electrical and functional testing, conformal coating and over molding.
FCT has provided this customer with outstanding service and support and further with a product that is providing outstanding performance in an extremely challenging application.  This product is presently being rolled out to professional sports franchises and the customer along with FCT are very excited about the prospects for growth.
The customer has really enjoyed FCT's responsiveness, knowledge and overall performance.  Nothing better than a satisfied customer!

Industrial Customer
Application: Hand-held device to measure airborne chemical elements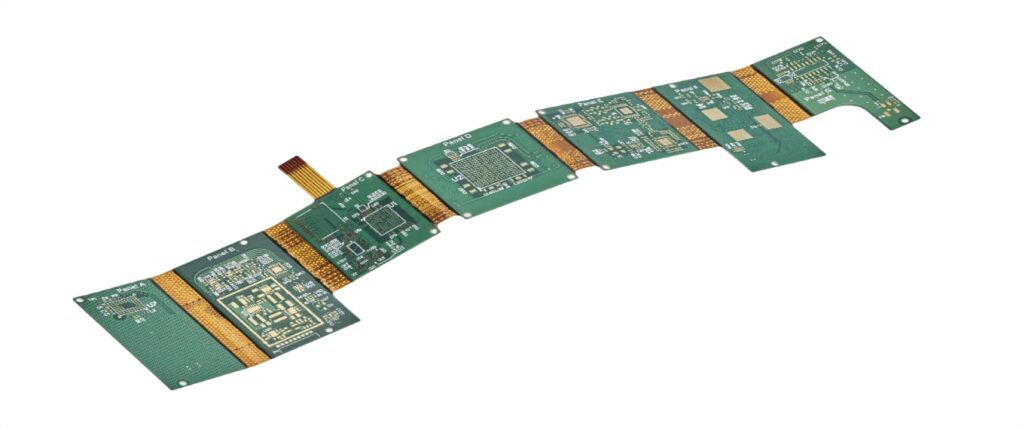 FCT was engaged by the customer to support them with the design, prototyping and production of a challenging rigid flex circuit and assembly.  The customer was frustrated given previous unsuccessful attempts with other suppliers to attain a successful rigid flex circuit that would perform as desired. 
The desired product was a complex 10-layer rigid-flex design assembly to be utilized in a hand-held device that would measure certain chemical elements in the air.
FCT did a detailed review of the design and was able to redline the print, adjust some notes that were unclear, and adjusted the data that would allow for successful manufacturing of the rigid flex board.  Some adjustments included; proper sizing of the blind and buried vias, associated pad sizes, proper stacking and adjustments to SMT pads to meet recommendations that would lead to the successful manufacturing of this product.  Often it takes highly experienced front end consultation and working through some give and take with the customer in order to get to a cost-effective solution that can be manufactured at high yields while assuring the product will meet overall customer requirements.
Given the recommended adjustments to this product, FCT was able to able to successfully build and ship this complex rigid flex assembly during the prototyping stage.  We then worked with the customer to meet their schedule in conducting additional pilot runs and today are meeting the customers longer term larger scale production needs.   
Given upfront costs related to tooling, FCT also worked with the customer to spread these costs across the first 12 months of production shipments in support of alleviating some of the front-end financial burden.  Given the service, support and success that we were able to attain with this very complex rigid flex assembly; orders for additional circuit/assemblies have been received.
An outstanding relationship has been established with this customer due to providing excellent front end consultation that led to success including high yields and cost-effective solutions while also providing continuous and responsive service and support. The customer is very pleased with the relationship that they have developed with FCT.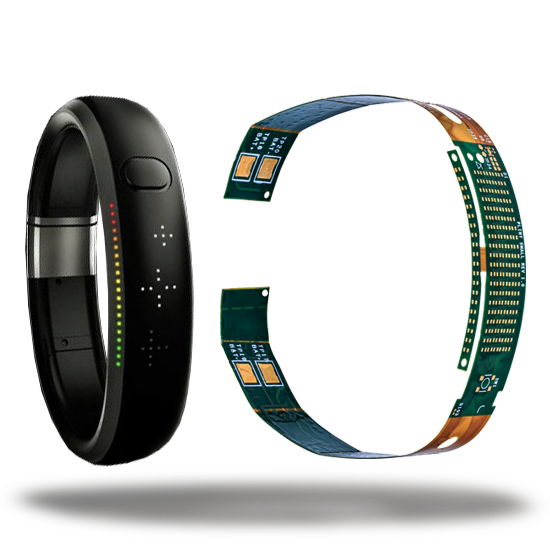 Call 888-921-6167 (USA and Canada) or +1-763-545-3333 (International)  and ask to speak to one of our Applications Engineers. Or Email us here.