Our membrane switch flex circuit designs primarily include Polymer Thick Film (PTF) "membrane switches" such as graphic overlays, touch pads and key pads. Membrane switches function as a normally open, momentary contact, low-voltage pressure-sensitive circuit. The design of a membrane switch starts with a polyester layer. Through a screen printing process, conductive patterns are deposited onto the polyester layer. Then a dielectric insulator is added to insulate the conductive patterns and leave openings where the conductive ink should remain for electrical contact.
When pressure is applied to the top layer of the membrane switch circuit, it flexes through the punched openings of the spacer to establish electrical contact between conductive pads of the upper and lower sheets, momentarily closing the membrane switch circuit. When pressure is released from the top layer, the membrane switch circuit springs back to its normal open position.
We will take on any membrane switch design challenge involving graphic overlays and flex circuits because we are leaders in technology & process development of membrane switches and flex circuits. We will find a solution within our broad range of capabilities, including circuit design, engineering, manufacturing, die-cutting and surface mount technology. We take pride in tackling the toughest design challenges related to PTF flex circuits.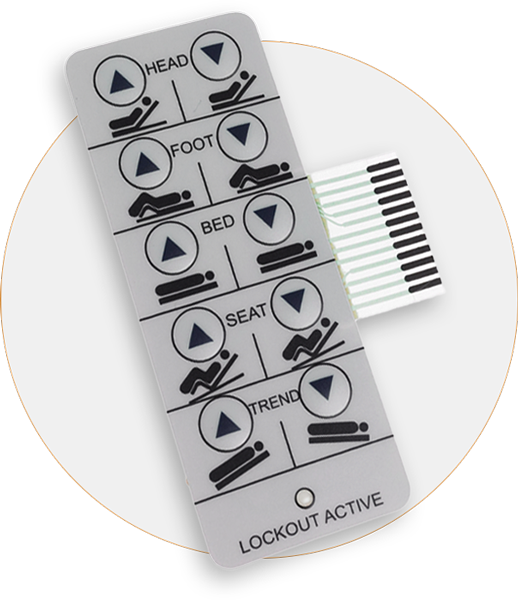 Flexible Circuit Technologies, a premier global supplier in design and production of
Flexible Circuits, Rigid Flex, Flexible Heaters, Flat Flex Cables, Membrane Switches, Plastic Moldings, Assemblies, Product Module Builds to Complete Product Box Builds
For more in depth information on Membrane Switches, click on the links below:
In summary, if you have membrane switch design needs, Flexible Circuit Technologies can help.