Our membrane switch flex circuit designs primarily include Polymer Thick Film (PTF) "membrane switches" such as graphic overlays, touch pads and key pads. Membrane switches function as a normally open, momentary contact, low-voltage pressure-sensitive circuit. The design of a membrane switch starts with a polyester layer. Through a screen printing process, conductive patterns are deposited onto the polyester layer. Then a dielectric insulator is added to insulate the conductive patterns and leave openings where the conductive ink should remain for electrical contact.
When pressure is applied to the top layer of the membrane switch circuit, it flexes through the punched openings of the spacer to establish electrical contact between conductive pads of the upper and lower sheets, momentarily closing the membrane switch circuit. When pressure is released from the top layer, the membrane switch circuit springs back to its normal open position.
We will take on any membrane switch design challenge involving graphic overlays and flex circuits because we are leaders in technology & process development of membrane switches and flex circuits. We will find a solution within our broad range of capabilities, including circuit design, engineering, manufacturing, die-cutting and surface mount technology. We take pride in tackling the toughest design challenges related to PTF flex circuits.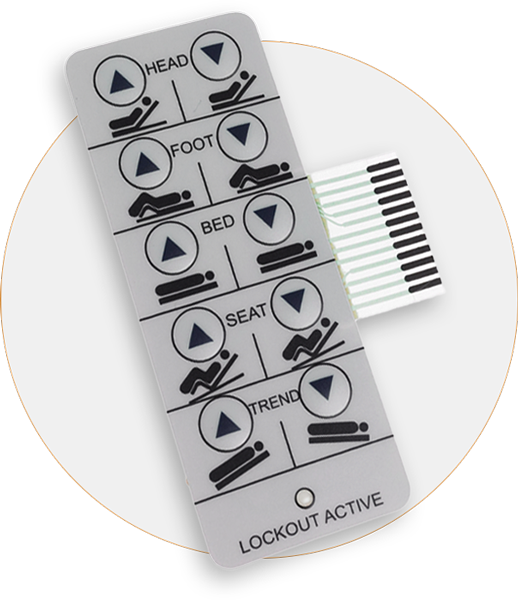 Flexible Circuit Technologies, a premier global supplier in design and production of
Flexible Circuits, Rigid Flex, Flexible Heaters, Flat Flex Cables, Membrane Switches, Plastic Moldings, Assemblies, Product Module Builds to Complete Product Box Builds
For more in depth information on Membrane Switches, click on the links below:
In addition to the general benefits described in flexible printed circuits, there are some unique benefits to polymer thick film circuits. They are as follows:
Environmentally Friendly – Utilizing additive printing of silver & carbon, the process of making polymer thick film circuits does not generate hazardous gases.
Cost Effective – Polyester is the most common substrate utilized in the PTF production process. As such, PTF circuits are generally cheaper to manufacture than other flex circuits.
Ease of Manufacture – Due to the simple screen printing process, membrane switches are very easily manufactured.
Cosmetic Appeal – Due to their streamlined design and the numerous graphic overlay options, polymer thick film circuits are cosmetically appealing.
Design Flexibility – As with all flexible circuits, design options are limitless.
Membrane switch circuit production utilizes high speed screen printing techniques which result in high speed production and high yield throughout. Finally, the circuit is sent thru a process where the conductor needed is left unharmed.  Two different types of membrane switches can be utilized with PTF circuits: graphic overlay and key pads. Some applications of PTF circuits are as follows:
Key Pad Switches:
Phones
Calculators
Keyboards
Remote controls
Thermostats
Graphic Overlays:
Dashboards
Instrumentation
Appliances
Electronic games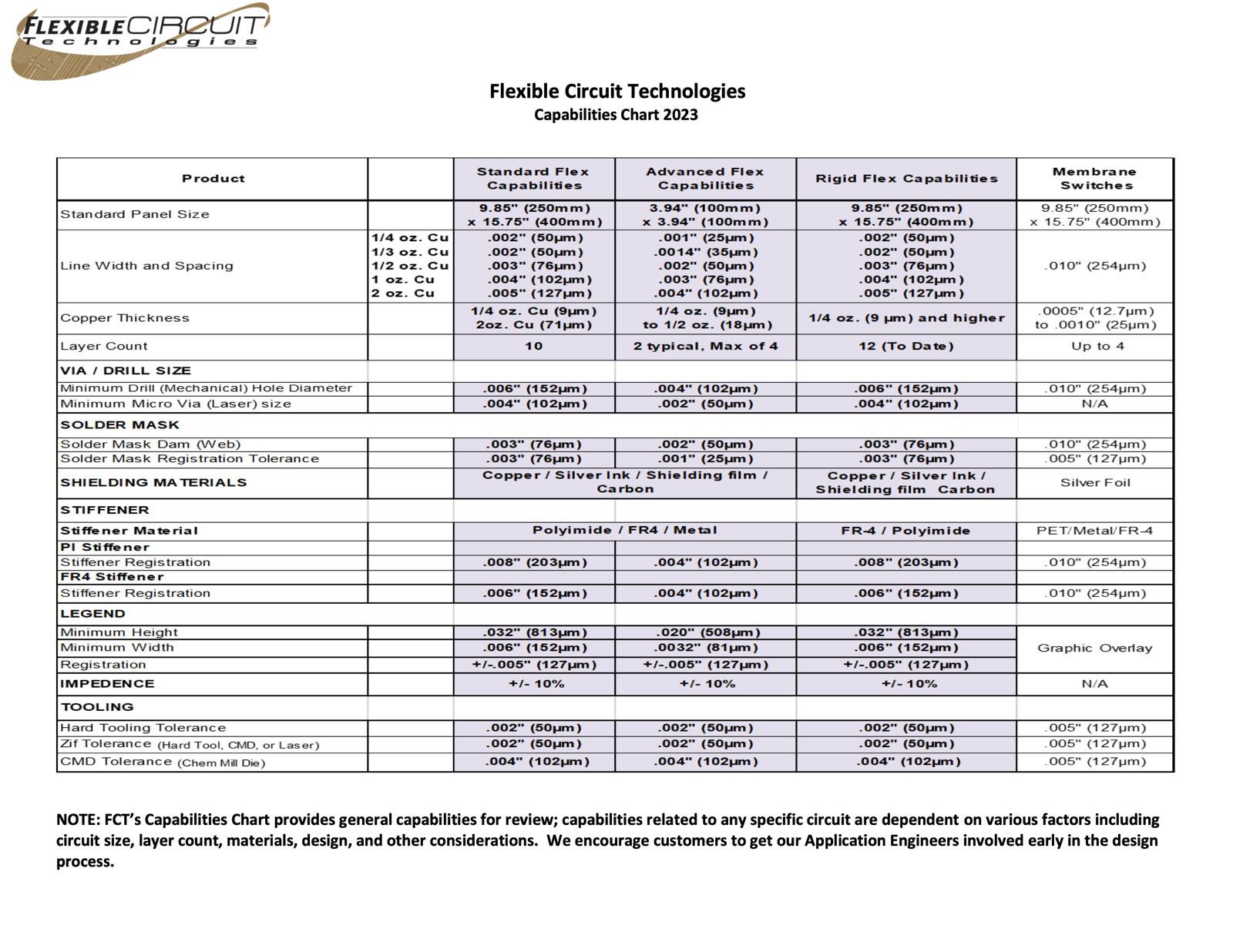 Base Material – ​The standard material used for membrane switches is Polyester. Other base material options include:
PET (Polyethylene terephthalate)
PEN (Polyethylene naphthalate)
Conductors – ​Conductive inks are the most widely used conductors and can be applied in various thicknesses and line widths to meet each customer's requirements. Additional conductor options include:
Standard Silver Ink
Highly Conductive Silver Ink
Silver/Silver Chloride Ink
Carbon Ink
Copper
Carbon/Silver blend
Insulators – ​Screen printed dielectrics are used to mask conductors from external elements and to provide insulating layers between multiple conductor layers.
Adhesives – ​Adhesives are used only when combining membrane switches with touch-pads, keypads or some form of graphic overlay. Common adhesives include:
Epoxy
Acrylic
Pressure sensitive adhesives
As the membrane switch market continues to expand, there have been many advances in technology including: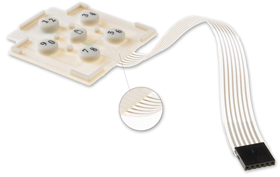 Touch Pads (or Key Pads) – The tactile response to the end user is the "feeling" felt upon touching the interactive component of the membrane switch. The tactile response can be designed in varying degrees: very little (or none) to extremely heavy and easily felt. Silicon Rubber Keypad Single Sided Screened Silver.
Silicone Rubber Keypads
Tactile & Non-Tactile Keys
Compression Molded or Cast
Multi-Color Mold & Screen Printed Legends
Abrasion Resistant Coatings
---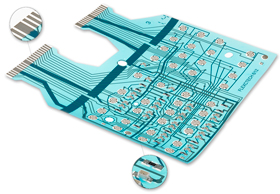 Component Assembly – At Flexible Circuit, we offer through hole and surface mount capabilities, as well as in circuit testing, conformal coating and electrostatic protective packaging.
---
Graphic Overlays – Graphic Overlays can be placed over flex circuits, rigid boards or membrane switches. The overlays provide the user interface with the underlying circuit and typically are used in conjunction with LEDs, LCD displays or dome switches mounted on their circuits. The overlays are made from polycarbonate, polyester or acrylic.
---
In summary, if you have membrane switch design needs, Flexible Circuit Technologies can help.